COOPERATION FOR SUPPORTING STUDENTS ENROLLED IN VOCATIONAL EDUCATION CENTER IN KONYA
The Directorate General for Vocational and Technical Education affiliated to the Ministry of National Education has signed a protocol with the Konya Governor's Office and Konya Metropolitan Municipality for Supporting Students who enrolled in Vocational Education.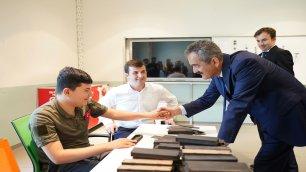 The protocol aims at equipping young people with vocational skills for reducing the young unemployment rate and giving support to the families of vocational education students in order to increase young employment.
Making a speech at the protocol ceremony, Minister of National Education Mahmut Özer said that a similar protocol was signed recently with the Gaziantep Şahinbey and Bursa Metropolitan Municipalities.
"In our civilization, the path to heaven passes through serving others," said Özer and he announced that the Konya Metropolitan Municipality will give 300 lira support to 5,000 vocational education students for 12 months.
Özer mentioned his Ministry's efforts to reinforce vocational education and noted that amendment made in the Vocational Education Law No. 3308 on December 25, 2021 was a success.
"After the amendment, the number of apprentices and foremen which was 159,000 reached 530,000. As President Recep Tayyip Erdoğan announced earlier, our goal is to enroll 1 million students in vocational education centers until the end of 2022. We pay 1,275 liras monthly salary to students and we insure them against occupational illnesses and accidents. In the third year of their education, students are paid 2,125 liras monthly salary," stated Özer.
Minister Özer reminded that these salaries are paid by the state and this is important especially for small and medium size enterprises.
"Konya is among the cities which have a large number of small and medium size enterprises. Today, we announce a new development campaign in vocational education in Konya. The project based on agricultural production is very important," said Özer.
Minister Özer visited Selçuklu People with Autism Education Foundation (SOBE)
As a part of official contacts in Konya, Minister Özer visited Selçuklu People with Autism Education Foundation (SOBE).
He chatted with students and parents at the foundation and visited skill workshops.
Later, he played ping pong with students.